Deutz Series Diesel Generator
50HZ
60HZ
Product Detail
Product Tags
GENSET MODEL
PRIME POWER
(KW)
PRIME POWER
(KVA)
STANDBY POWER
(KW)
STANDBY POWER
(KVA)
ENGINE MODEL
ENGINE
RATED
POWER
(KW)
OPEN
SOUNDPROOF
TRAILER
TBF22
16
20
18
22
BFM3 G1
20
O
O
O
TBF33
24
30
26
33
BFM3 G2
29
O
O
O
TBF50
36
45
40
50
BFM3T
40
O
O
O
TBF55
40
50
44
55
BFM3C
45
O
O
O
TBF66
48
60
53
66
BF4M2012
54
O
O
O
TBF83
60
75
66
83
BF4M2012C G1
71
O
O
O
TBF103
75
94
83
103
BF4M2012C G2
85
O
O
O
TBF110
80
100
88
110
BF4M1013EC G1
97
O
O
O
TBF125
90
113
99
125
BF4M1013EC G2
105
O
O
O
TBF138
100
125
110
138
BF4M1013FC
117
O
O
O
TBF165
120
150
132
165
BF6M1013EC G1
146
O
O
O
TBF200
145
181
160
200
BF6M1013EC G2
160
O
O
O
TBF206
150
188
165
206
BF6M1013FC G2
166
O
O
O
TBF220
160
200
176
220
BF6M1013FC G3
183
O
O
O
TBF250
180
225
200
250
BF6M1015-LAGA
208
O
O
O
TBF275
200
250
220
275
TCD8.0
225
O
O
O
TBF275
200
250
220
275
BF6M1015C-LAG1A
228
O
O
O
TBF303
220
275
242
303
BF6M1015C-LAG2A
256
O
O
O
TBF344
250
313
275
344
BF6M1015C-LAG3A
282
O
O
O
TBF385
280
350
308
385
BF6M1015C-LAG4
310
O
O
O
TBF413
300
375
330
413
BF6M1015CP-LAG
328
O
O
O
TBF481
350
438
385
481
BF8M1015C-LAG1A
388
O
O
O
TBF500
360
450
396
495
BF8M1015C-LAG2
403
O
O
O
TBF523
380
475
418
523
BF8M1015CP-LAG1A
413
O
O
O
TBF550
400
500
440
550
BF8M1015CP-LAG2
448
O
O
O
TBF564
410
513
451
564
BF8M1015CP-LAG3
458
O
O
O
TBF591
430
538
473
591
BF8M1015CP-LAG4
480
O
O
O
TBF625
450
563
500
625
BF8M1015CP-LAG5
509
O
O
O
TBF756
550
688
605
756
HC12V132ZL-LAG1A
600
O
O
TBF825
600
750
660
825
HC12V132ZL-LAG2A
666
O
O
GENSET MODEL
PRIME POWER
(KW)
PRIME POWER
(KVA)
STANDBY POWER
(KW)
STANDBY POWER
(KVA)
ENGINE MODEL
ENGINE
RATED
POWER
(KW)
OPEN
SOUNDPROOF
TRAILER
TBF28
20
25
22
28
BFM3 G1
25
O
O
O
TBF39
28
35
31
39
BFM3 G2
34
O
O
O
TBF50
36
45
40
50
BFM3T
45
O
O
O
TBF63
45
56
50
63
BFM3C
55
O
O
O
TBF69
50
63
55
69
BF4M2012
63
O
O
O
TBF83
60
75
66
83
BF4M2012C G1
79
O
O
O
TBF110
80
100
88
110
BF4M2012C G2
96
O
O
O
TBF125
90
113
99
125
BF4M1013EC G1
105
O
O
O
TBF138
100
125
110
138
BF4M1013EC G2
115
O
O
O
TBF150
110
138
121
150
BF4M1013FC
124
O
O
O
TBF165
120
150
132
165
BF6M1013EC G1
155
O
O
O
TBF206
150
188
165
206
BF6M1013EC G2
181
O
O
O
TBF220
160
200
176
220
BF6M1013FC G2
186
O
O
O
TBF250
180
225
198
250
BF6M1013FC G3
204
O
O
O
TBF275
200
250
220
275
TCD8.0
245
O
O
O
TBF303
220
275
242
303
TCD8.0
245
O
O
O
TBF275
200
250
220
275
BF6M1015-LAGB
225
O
O
O
TBF303
220
275
242
303
BF6M1015C-LAG1B
244
O
O
O
TBF344
250
313
275
344
BF6M1015C-LAG2B
279
O
O
O
TBF385
280
350
308
385
BF6M1015C-LAG3B
306
O
O
O
TBF413
300
375
330
413
BF6M1015CP-LAG1B
320
O
O
O
TBF440
320
400
352
440
BF6M1015CP-LAG2B
351
O
O
O
TBF500
360
450
396
500
BF8M1015C-LAG1B
408
O
O
O
TBF523
380
475
418
523
BF8M1015CP-LAG1B
429
O
O
O
TBF550
400
500
440
550
BF8M1015CP-LAG2B
——
O
O
O
TBF625
450
563
495
625
BF8M1015CP-LAG3B
500
O
O
O
TBF756
550
688
605
756
HC12V132ZL-LAG1B
600
O
O
TBF825
600
750
660
825
HC12V132ZL-LAG2B
666
O
O
Deutz is famous for its air-cooled diesel engines. In the early 1990s, the company developed new water-cooled engines (1011, 1012, 1013, 1015, etc.) with power range of 30kW to 440kw . The new series of engines have the characteristics of small size, high power, low noise, good emission and easy cold start, which can meet the stringent emission regulations in the world and have a wide market prospect.
DEUTZ (Dalian) Engine Co., Limited was co-invested by DEUTZ AG (the founder of diesel engines in the world) in Germany and FAW (the leading company of China auto industry) in China.
The company owned three product platforms (series C,E and D) with power range from 16 to 225 kilowatt (kw). The products are edge-cutting, high efficient, economic and environment friendly, which makes it an ideal engine for diesel Generator Set.By virtue of world-class brand effects, R&D system, manufacturing system, power platform, profit making and market strategy, the company commits itself to fully meet the diverse needs of customers domestic and abroad.
Hebei Huabei Diesel Engine Co., Ltd. has exclusively introduced Deutz 1015 series and 2015 series water-cooled diesel engine production licenses, becoming the first domestic enterprise to produce high-power air and water-cooled diesel engines at the same time. In 2015, the company signed a TCD12.0/16.0 technology license agreement with Deutz, and introduced high-pressure common rail technology, making the technical level of the 132 series diesel engine reach the international advanced level. The continuous upgrading of product technology has achieved the position of the 132 series diesel engine in the military and civilian markets, and has also laid the foundation for the sustainable development of the company. In the third undertaking, Huachai Company adhered to the operating guiding ideology of "military-oriented, military-civilian interaction, outstanding characteristics, and key breakthroughs", and took the construction of a specialized high-power engine superior enterprise as its goal, and carried out reforms. The road to innovation. Through unremitting efforts, the quality of corporate economic operations has been greatly improved, major economic indicators such as operating income and profits have all doubled, and development capabilities have been continuously improved. The product and market structure has realized the transformation from air-cooling to water-cooling and air-water cooling; the business structure has also changed from the original military product to the military and civilian; the product has achieved diversification and serialization, and has its own scale With the market and characteristic market, the company has embarked on the road of quality and efficiency development.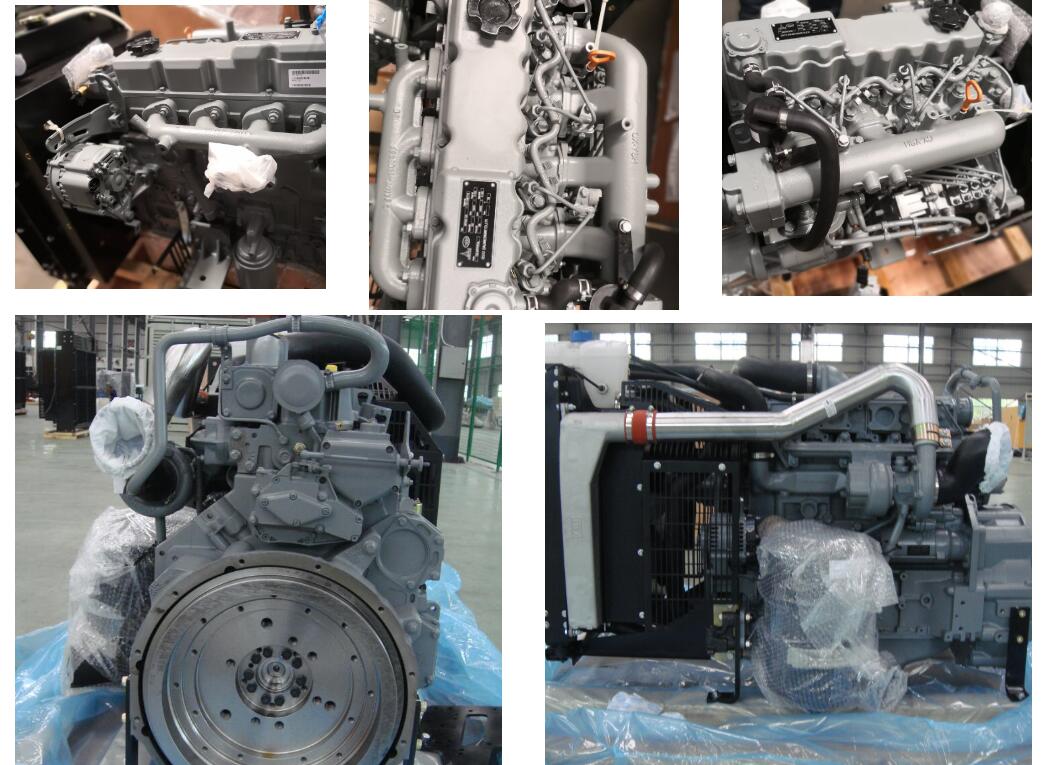 ---
Previous:
Doosan Series Diesel Generator
---